Tara Mandala Resident Teachers
Lama Tsultrim Allione
Lama Tsultrim Allione is an author, internationally known Buddhist teacher, and the founder and resident lama of Tara Mandala Retreat Center, located outside of Durango, Colorado. She is the author of Women of Wisdom and national bestseller, Feeding Your Demons: Ancient Wisdom for Resolving Inner Conflict, which is now translated into seventeen languages, and Wisdom Rising: Journey into the Mandala of the Empowered Feminine. Born in New England to an academic and publishing family, Lama Tsultrim traveled to India in her late teens and in 1970, at the age of twenty-two, was ordained as a Tibetan Buddhist nun by H. H. the Sixteenth Karmapa. After four years living as a nun practicing meditation in the Himalayan region, she returned her monastic vows, married, and raised a family of three children. She has a Master's degree in Buddhist Studies/Women's Studies from Antioch University. Her writings and teachings come from her sublime Tibetan lamas as well as her experience as a Western woman and mother. She is known for her ability to translate the wisdom of the ancient Tibetan Buddhist tradition into clear teachings that are relatable and relevant to Western audiences. Lama Tsultrim continues to guide Tara Mandala as the resident lama, and thousands of students around the world. She was named Buddhist Woman of the Year in 2009 in Bangkok, Thailand. For more information on Lama Tsultrim Allione watch a documentary on her life story Feeding Your Demons.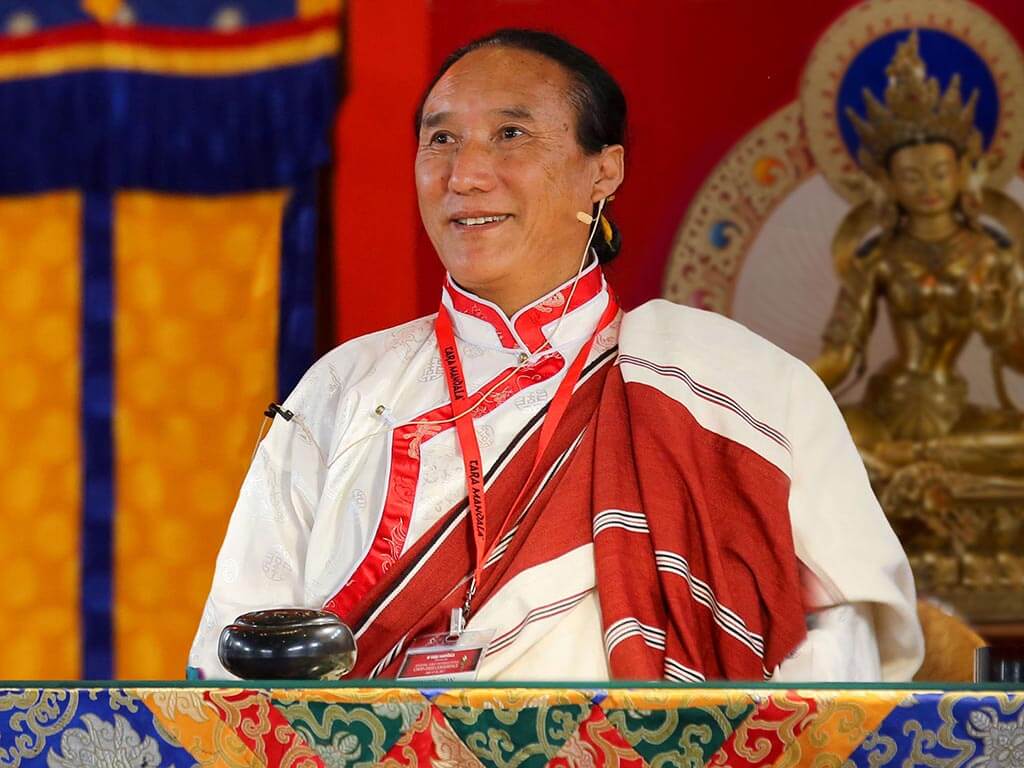 Drubpön Lama Karma
Venerable retreat master (drubpön) Lama Karma was born in eastern Bhutan and joined the Long-Nying Chöling Monastery at a young age. His root teacher was Lama Naljorpa, the great yogi of Mahamudra and Dzogchen, from whom he received numerous vows, empowerments, instructions and oral transmissions, including the Chöd Rinchen Trengwa and the Chöd practice of Laughter of the Dakinis from the Longchen Nyingtik Tradition. A heart student of Terton Pedgyal Lingpa Rinpoche, he served as the scribe for the entirety of Pedgyal Lingpa's Kusum Gongdü treasure cycle. Drubpön Lama Karma studied with other great teachers, including H.H. Dodrupchen Rinpoche, H.H. Penor Rinpoche, H.H. Taklung Tsetrul Rinpoche, H.H Dilgo Kyentse Rinpoche, H.H. Dudjom Rinpoche, and the 16th and 17th Karmapas. He has spent over 16 years in strict meditation retreats. Drubpön is renowned as a genuine retreat master throughout Bhutan and has been one of the most important Bhutanese lamas to disseminate the teachings and maintain the tradition of Terton Pedgyal Lingpa.
Dorje Lopön Chandra Easton
Dorje Lopön Chandra Easton, Buddhist teacher and translator, studied Buddhism and Tibetan language at the Library of Tibetan Works & Archives in Dharamsala, India, founded by H.H. Dalai Lama. She later received her degree from UCSB's religious studies department at which time she co-translated Sublime Dharma, A Compilation of Two Texts on the Great Perfection, published by Vimala Publishing, 2012.
From the very beginning of her Buddhist studies, Lopön Chandra recognized the profound need to bring forth the voice of the sacred feminine in Buddhist theory and practice. Due to this, in 1999 during her first pregnancy, she met and then later began to study with Lama Tsultrim Allione, pioneering female Buddhist teacher, national best selling author, and founder of Tara Mandala Retreat Center.
Lopön Chandra is the Assistant Spiritual Director and Lead Authorized Teacher at Tara Mandala Retreat Center. She serves on the Tara Mandala Board of Trustees, develops programs and curricula for Tara Mandala, as well as teaches nationally and internationally. In September of 2015, during the final day of the White Dakini Drubchen, Lopön Chandra was enthroned as the Dorje Lopön (Vajra Teacher) of Tara Mandala under Lama Tsultrim Allione and given the name Lopön Yeshe Dawa Zangmo by H.E. Gochen Tulku Sang-ngag Rinpoche who presided over the ceremony with Lama Tsultrim.
Lopön Chandra has had the good fortune to study with many Tibetan and Western Buddhist teachers such as H.H. Dalai Lama, H.H. Karmapa, Lama Tsultrim Allione, Tulku Sang-ngag Rinpoche, Jennifer Welwood, B. Alan Wallace, Gyatrul Rinpoche, A.dzom Paylo Rinpoche, and Lama Pema Dorje.
Chandra is currently on the Tara Mandala Bay Area coordinating committee, through which she teaches and organizes events in the San Francisco Bay Area. She is currently living in Durango, Colorado, with her family. To learn more about Chandra, visit chandraeaston.com.
Authorized to teach:
Feeding Your Demons®: Kapala Training Level 1
Mandala Training
Sutrayana Retreat
Mahayana Retreat
Vajrayana Retreat
Namkhai Norbu Chöd
Parchangma Chöd
Dzinpa Rangdröl Ngöndro
Prajna Paramita Meditation
Lojong (Mind Training)
Khandro Tsering Drolkar
Khandro Tsering Drolkar was born in Bumthang, Bhutan in 1963. In 1984 she began an eleven year retreat under the guidance of her consort Lama Naljorpa at the Phurpaling Retreat Center in Tashiyangtse. During Lama Naljorpa's lifelong retreat there, she received many teachings and experiential trainings directly from him. She was the Chöd practice chant master at the retreat center and Lama Naljorpa took great pride in her ability to lead the practice. She assisted Lama Naljorpa in instructing practitioners in the Chöd melodies and rhythms. Whenever there was Chöd practice, she would lead it.
From Lama Naljorpa she received many different Chöd lineages over the course of nine years including: Karma Chagme's Dream Prophecy, Jigme Lingpa's Laughter of the Dakinis and Kusali's Accumulation from the Longchen Nyingthig, Padgyal Lingpa's Gathered Intention of the Three Kayas Chöd, Dudjom Lingpa's Four Feast Chöd, and Rangjung Dorje and Karma Chagme's Garland of Jewels. She learned various Phowa practices like that from the Longchen Nyingthig and Shakya Shri's Hearing Lineage. She learned and practiced the generation stage practices of Jigme Lingpa's Longchen Nyingthig, Jatsön Nyingpo's Könchog Chidü, White Umbrella, and Vajrakilaya. She also trained in the practices of working with the subtle channels, energies, and essences, learning the practice of inner fire and the associated yogic exercises. Likewise, she received transmissions and training in the Words of My Perfect Teacher and Yeshe Lama of the Longchen Nyingthig, Zhabkar's Flight of the Garuda, Longchenpa's Treasury of the Expanse of Reality, Milarepa's Story and Collected Songs, Karma Chagme's Mountain Retreat Instructions, Gesar Stories, and much more.
After Lama Naljorpa passed away in 1994, Khandro Drölkar moved to Pema Yangdzong Retreat Center in Paro, Bhutan to study and practice with Drubpön Lama Karma, who later became her partner. The Pema Yangdzong Retreat Center is a center founded by the late treasure discoverer Padgyal Lingpa, who was one of the root teachers of both Lama Naljorpa and Lama Karma. Khandro Drolkar continues to lead and teach Chöd practice all around the world. Her deep devotion to Chöd practice, the beautiful melodies and rhythms, along with the teachings of Prajnaparamita and Machig Labdrön is continuously inspiring for all that study with her.