Lama Tsultrim Allione's Biography
Lama Tsultrim Allione is the bestselling author of Women of Wisdom (1984), Feeding Your Demons (2008), and Wisdom Rising Journey into the Mandala of the Empowered Feminine (2018). Lama Tsultrim is the founder of Tara Mandala, a 700-acre retreat center with the three-story temple and library  dedicated to the divine feminine in the Buddhist tradition near Pagosa Springs, in southwest Colorado. She leads a vibrant international community with over forty groups around the world. Born in New England, she traveled to Asia in her late teens and in 1970 at the age of 22 in Bodhgaya, India she became the first American to be ordained as a Tibetan Buddhist nun. She later disrobed, married and became the mother of three and now is grandmother of six. In 2007 she was recognized in Tibet and Nepal as the emanation of the renowned 11th-century Tibetan yogini, Machig Labdrön, and she is one of the few women Lamas in the world today. In 2012 she received the Machig Labdron Empowerment from His Holiness the 17th Karmapa. She was awarded international recognition as an "Outstanding Woman in Buddhism" in 2009 by a panel of distinguished scholars and practitioners in Bangkok, Thailand.
Background
Lama Tsultrim was born in Bangor, Maine, on October 3, 1947 as Joan Rousmanière Ewing. Her family moved to Keene, New Hampshire when she was eight. Her father, James D. Ewing, was the publisher of a small-town New England newspaper; and her mother, Ruth D. Ewing, formerly a labor mediator, was involved with the League of Women Voters and community mental health. Her maternal grandparents both received PhD. degrees in philosophy at Harvard University. Her grandfather was a professor at Harvard. Her grandmother taught philosophy and psychology at Mount Holyoke and Smith Colleges. She was one of the first women to receive a PhD. from Harvard-Radcliffe. Her paternal grandfather Oscar R. Ewing was in the President's cabinet under Harry Truman.
Lama Tsultrim grew up with her older sister, Carolyn, and younger brother, Thomas. In her youth she was a competitive horseback rider and downhill skier. Her maternal grandmother, Frances R. Dewing, gave her a book on Buddhism when she was fifteen years old, activating the seed that would come to fruition in a life devoted to Buddhist teachings. A year later while visiting her grandparents in Cambridge, Massachusetts, she came upon Dr. Carl Jung's book, Man and his Symbols, which had a Tibetan mandala on the cover. This book triggered a life long interest in the mandala.
In 1967, at the age of nineteen, having read every book available at the time about Tibet, she traveled to Nepal and India in hopes of learning to paint mandalas. Meeting the Tibetan refugees in Nepal, Lama Tsultrim had a feeling of 'arriving home'.She began to sit each morning in the Kagyu monastery (next to Swayambhu stupa) in Kathmandu and observe the rituals. At this time she was living with the American yogi, Bhagavan Das and Dr. Richard Alpert, an eminent Harvard psychologist and psychedelic pioneer. Alpert and Bhagavan Das embarked on the famous journey to see Neem Keroli Baba, and Lama Tsultrim left on an arduous journey, hitch-hiking across Northern India to see His Holiness the Dalai Lama in Dharamsala, where she began a lifelong study of Tibetan Buddhism.
Study and Practice
After a six month stay in India and Nepal, Lama Tsultrim returned to America and went back to college, but felt that the wisdom she longed to learn was not being taught in American universities. In 1969 she made her way to Samye Ling, the first Tibetan monastery established in the West in Dumfriesshire, Scotland.
She met Trungpa Rinpoche, arriving the day he returned from the hospital after a car accident, and shortly before his departure to the United States. During her six month visit, she received from him The Sadhana of Mahamudra, which he had composed at Taksang in Bhutan.
Leaving Samye Ling for Nepal in the winter of 1969, she practiced the Sadhana of Mahamudra daily while traveling overland in a VW bus with five other people from London to Kathmandu. Arriving in Nepal at the end of 1969 she met His Holiness the 16th Karmapa, a great master and committed monk. The Karmapa spotted Lama Tsultrim in a large crowd at Swayambhu and made prophecies that she would benefit beings through the Dharma. Unaware of this, but feeling spontaneous devotion to His Holiness, she recalled a line from the sadhana, "The only offering I can make is to follow your example," and decided to become a monastic.
On the full moon of January 1970, at the age of 22, in Bodhgaya, India, she was ordained as Karma Tsultrim Chödron by the 16th Karmapa, Rigpai Dorje, attended by the four main reincarnate tulkus: His Excellence Tai Situ, H.E. Jamgon Kongtul, H.E. Gyaltsap Rinpoche, and H.E. Sharmar Rinpoche, as her witnesses. She was the first American to be ordained by H.H. Karmapa.
After her ordination, Lama Tsultrim returned to Nepal and studied with Sapchu Rinpoche, Lama Thupten Yeshe and Lama Zopa Rinpoche. In 1971, she traveled to Darjeeling and received teachings on Ngöndro (Preliminary Practices) and Chenrezig practice with Kyabje Kalu Rinpoche. She went to see His Holiness the Karmapa in Sikkim at Rumtek monastery, but as a foreigner she was allowed to stay for only one week, and was not able to see him again before his passing in 1981.
Lama Tsultrim continued to Bodhgaya for the winter of 1971, reconnecting with Baba Ram Dass and meeting his followers who were there practicing the first Goenka Vipassana courses.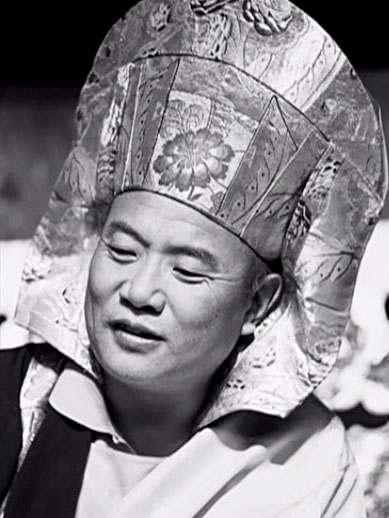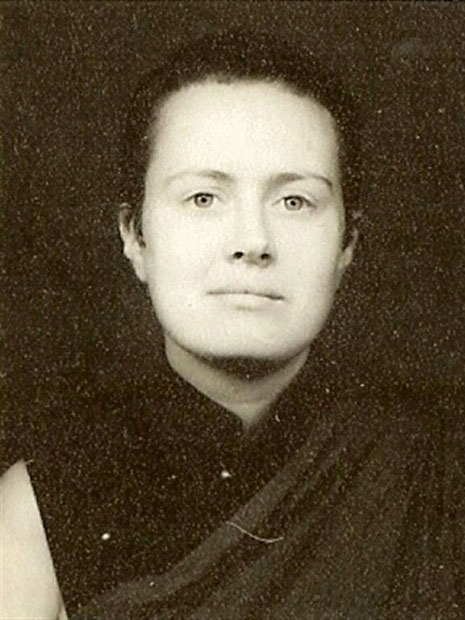 She then went to Sarnath, where she studied Buddhist philosophy with Nyichang Rinpoche. That spring she traveled to Himachial Pradesh where she met H.E. Khamtrul Rinpoche and later in Manali encountered her heart teacher Apho Rinpoche, grandson of the great yogi Shakya Shri. Here she practiced and completed half of her first Ngöndro and received Shinè Lhakthong (Shamanta/Vipassana) teachings. In late 1972, at the age of 25, Tsultrim returned to America and went directly to Trungpa Rinpoche's center in Vermont, Tail of the Tiger (now Karmê Chöling). She went into retreat to finish Ngöndro. In her time at Tail of the Tiger she met Allen Ginsberg and went on to travel with him around Wyoming and Montana. Then again, with him and Ram Dass, she traveled through Colorado, New Mexico and Wyoming.
After a year in the United States, Trungpa Rinpoche sent Lama Tsultrim back to India, as his emissary, to invite His Holiness Karmapa to the United States. During this visit she received the Dam Ngag Dzod Empowerments from Dilgo Khyentse Rinpoche, a ceremony that took three months in Tashi Jong, hosted by H.E. Khamtrul Rinpoche.  Then she returned to Manali to be with Apho Rinpoche and there learned her first Chöd practice of Naro Sang Chöd from Gegyen Khyentse. At this time she made the difficult decision to return her monastic vows and shortly afterwards married Paul Kloppenburg from Holland while in Delhi. They returned to America and moved to Vashon Island, Washington.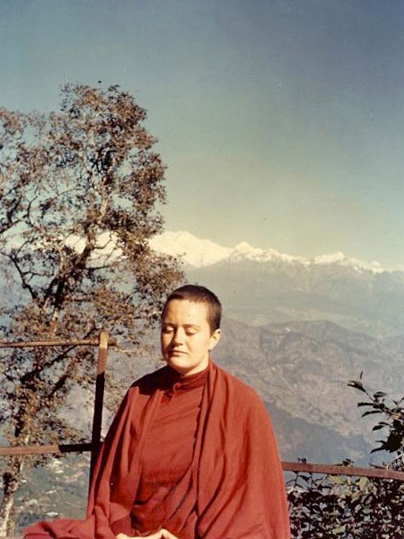 On Vashon Island, Lama Tsultrim and her husband began to study with the great, all-knowing, Dezhung Rinpoche. It was during this period that she gave birth to her two daughters Sherab (1974) and Aloka (1975). The family then moved to Boulder to study with Trungpa Rinpoche. Here she separated from her husband and became one of the first meditation instructors trained by Trungpa Rinpoche. She began to teach at Naropa Institute (now Naropa University) and worked for Trungpa Rinpoche's organization, at that time called, Vajradhatu (now Shambhala International). She was in the first group to receive the Vajra Varahi Empowerment from Trungpa Rinpoche and was also asked to become a Vajrayana Meditation instructor.
In 1978, while working at Naropa, Lama Tsultrim met Italian documentary filmmaker, Costanzo Allione, who became her second husband. She moved to Italy with her two daughters, where she met Chögyal Namkhai Norbu Rinpoche with whom she studied and practiced Dzogchen teachings for the next eighteen years. In 1980, she gave birth to twins: a boy, Costanzo, and a girl, Chiara. When they were two and a half months old, Chiara died of Sudden Infant Death Syndrome.
Chiara's passing triggered a need to find the life stories of women teachers from the Buddhist tradition, and so Lama Tsultrim began research for her first book, Women of Wisdom. This groundbreaking book on the lives of great Tibetan women practitioners was published in 1984. Lama Tsultrim earned her Master's degree in Buddhist Studies/Women's Studies from Antioch University. After leaving her Italian husband in 1986, she moved back to the United States and began teaching widely, under Chögyal Namkhai Norbu Rinpoche. She met her third husband David Petit in 1988. David taught dance and theater at the Waldorf School in Spring Valley, NY that her children attended. This marriage proved to be a true partnership on every level and until David's sudden death in 2010.
Tara Mandala
In 1993, after her children had grown up, Lama Tsultrim recalled her vision formulated in Manali in 1972, to create a western retreat center where meditation could be practiced as it had been in Tibet. She envisioned a place that would explore the interface between Western psychology and Buddhism. On September 18, 1993, following dreams and visions she and her husband David found the beautiful 700 acres of rolling hills, flowering meadows, and forests that would become Tara Mandala.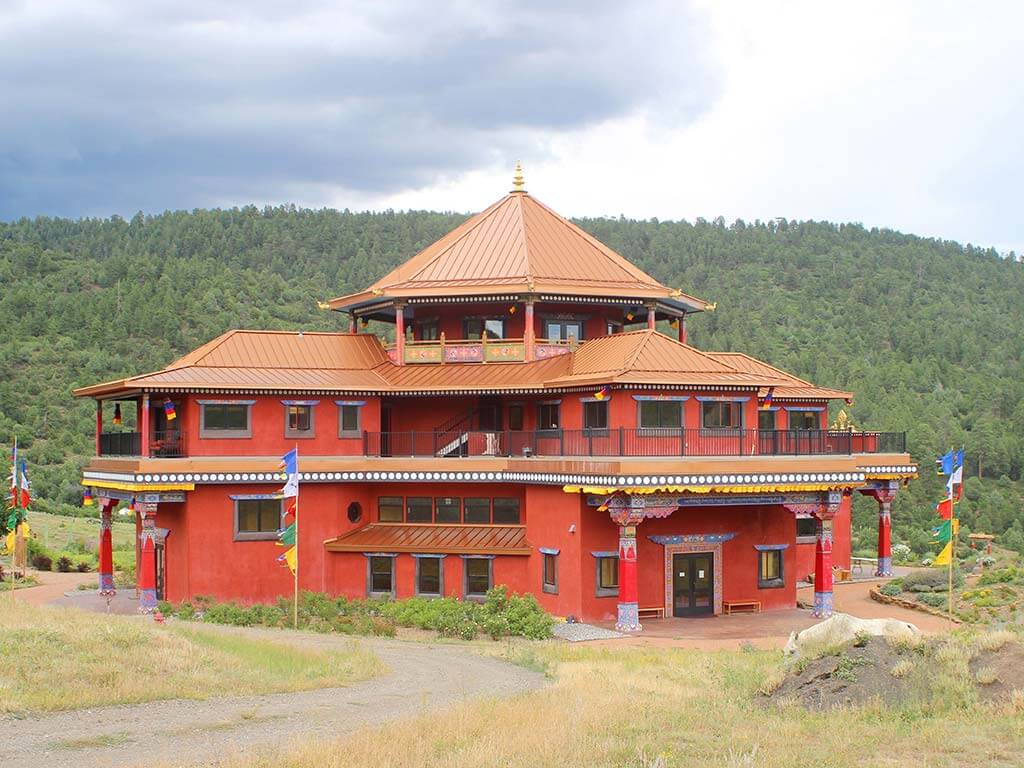 In June of 1994, Lama Tsultrim and David moved to the land with a group of supporters and began to hold retreats, build retreat cabins and host visiting teachers. In 1999, the first stupa on the land was consecrated by Chögyal Namkhai Norbu Rinpoche, dedicated to Nyala Pema Duddul, great Dzogchen master, who took rainbow body in 1872. The community lived on the land for ten years before any permanent buildings were built; retreats were held in large tents and yurts. Between 2005 to 2008, three buildings were completed at Tara Mandala: the Community Building, which houses the kitchen, dining room, offices, store, and bathing facilities; Prajna Residence Hall, which houses forty people in spacious sunlit rooms; and the extraordinary three-story mandala-shaped Tara Temple.
Machig Labdron's Lineage
From the time she learned the Chöd from Gegyen Khyentse in 1972, Lama Tsultrim has felt a deep connection to Machig Labdrön. In 1981 Lama Tsultrim had a vision of Machig while practicing Chöd with Chögyal Namkhai Norbu. The vision lead to the discovery and translation of Machig's biography for Women of Wisdom.
For many years, Lama Tsultrim focused her teachings on the lineage of Machig Labdrön, the 11th century Tibetan yogini who founded the Chöd lineage. While teaching Norbu Rinpoche's Chöd, she developed the five steps of Feeding Your Demons that developed into the creation of her book Feeding Your Demons (Little Brown 2008).
While on pilgrimage in Tibet in 2007, Lama Tsultrim was recognized as an emanation of Machig Labdrön by the resident Lama of Zangri Khangmar (Machig's monastery in Tibet). Before Lama Tsultrim's arrival, the resident Lama had had a dream of a white Dakini coming from the West loudly sounding a damaru (drum used in Chöd). There were other indicative signs during the visit such as rainbows that stayed for hours, rain after a long drought, etc. After these signs manifested, Lama Karma Dorje Rinpoche, tulku of the brother of the second Karmapa, Karma Pakshi, made the announcement of the recognition and gave Lama Tsultrim Machig's relics to bring back to Tara Mandala, professing that the future of Machig's lineage would be in the West.
The pilgrimage group then returned to Nepal where Lama Tsering Wangdu, who holds the lineage of Machig from Tingri Langkhor, the seat of Phadampa Sangye in Tibet, and is abbot of the Shelkar Chode monastery in Kathmandu, which is dedicated to Machig Labdrön's lineage, was waiting for them. He had also had a dream. Three days before the group arrived, he dreamed of Machig Labdrön and her entire lineage in the sky above him. Machig said to him, 'In three days I will be there.' When the pilgrimage group arrived he gave the Machig Chöd Empowerment at his monastery and saw Machig Labdrön dissolve into Lama Tsultrim's heart through the top of her head. While visiting Tara Mandala in 2008, he gave Lama Tsultrim the title of 'Lama' and wrote a recognition letter of her as an emanation of Machig Labdrön, a long life prayer, and praises of her. Read more about Lama Tsultrim's recognition. Lama Wangdu subsequently came to Tara Mandala and wrote a Long Life Prayer for Lama Tsultrim and a recognition letter of her as an emanation of Machig Labdrön.
Dzinpa Rangdrol
Since 2008, Sang-ngag Rinpoche has been establishing the lineage of Dzinpa Rangdröl, a terma from Do Khyentse Yeshe Dorje, at Tara Mandala. This cycle combines the lineage of Machig Labdrön, Phadampa Sangye, and the practice of Chöd with Dzogchen teachings. It is a complete cycle, beginning with Ngöndro (preparatory practices), and extending through the most advanced Dzogchen teachings. Throughout the years Sang-ngag Rinpoche has been extremely helpful and supportive of Tara Mandala, first helping with the building of the stupa, then with the filling and blessing of the vase offering to the earth and water spirits placed under the temple foundation. He also oversaw the ceremonial filling of the Sertog (gold pinnacle on top of the temple). With the establishment of the Dzinpa Rangdröl cycle, Sang-ngag Rinpoche has guided Tara Mandala's three-year retreatants, and the (Tsogyel Karmo) White Dakini Drubchen held every year. In 2009, he wrote a song 'in praise of Tara Mandala', a long life prayer for Lama Tsultrim in 2010, and a beautiful Tsog song about Dzinpa Rangdröl in 2011. He has kindly overseen many ceremonies and necessary rituals at Tara Mandala and has taught extensively on many topics as well.
Feeding Your Demons and Kapala Training
In 2008, Lama Tsultrim Allione authored Feeding Your Demons: Ancient Wisdom for Resolving Inner Conflict (Little Brown 2008). This book connects the wisdom of Tibetan Buddhism with the western concept of the psyche, addressing major cultural issues and the roots of our suffering. This national bestseller is based on Lama Tsultrim's pioneering technique that uses five steps to nurture the parts of ourselves that we usually fight against. The book offers a personal and collective new paradigm for "feeding; not fighting" inner and outer demons. She has developed a training program that combines the demon work with Machig Labdrön's lineage practices, called Kapala Training. Kapala Training has become an international program.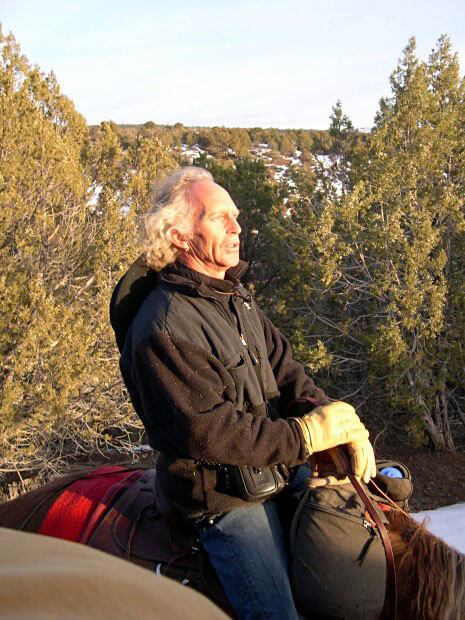 Loss and Return
On July 22, 2010, Lama Tsultrim's husband, David Petit, died suddenly of a heart attack. He was cremated in front of the stupa, which he built, on the land. At the time of his death he was proclaimed a great yogi by many lamas who knew his practice and the signs at the time of his death. There were numerous rainbows everyday after his death, as well as one of the rarest atmospheric phenomena, a moon bow, which, on the third day, extended from Ekajati Peak in the center of the land, to the house where David died. Extensive traditional rituals were performed for him at Tara Mandala, and at Adzom Rinpoche's monastery in Tibet for 49 days as well. David's tögal teacher, Tsoknyi Rinpoche, performed the 49th day ceremony at Tara Mandala.
David's ashes were blended with clay and made into tsatsas (clay stupas with mantra roles placed inside) and placed in a tsakang (a memorial stone house) on the ridge where he practiced in the early mornings.
After David's death, Lama Tsultrim made a long pilgrimage to Asia. She started with a six-week stay in Kangding (Dartsedo) receiving the entrustment ceremony (katey) and oral transmission (lung) of Dzinpa Rangdröl from Do Dasel Wangmo, the great granddaughter of the tertön Do Khyentse. Lama Tsultrim then went to central Tibet to Machig Labdrön's cave and birthplace, and to Nepal and India where she became re-acquainted with the 17th Karmapa, Orgyen Trinley; and Sey Rinpoche, son and lineage holder of Apho Rinpoche. She then visited Chögyal Namkhai Norbu Rinpoche in Australia and made a short visit to New Zealand.
Children
Lama Tsultrim is the mother of three grown children and a beloved grandmother of six. Her daughter, Sherab, lives in Telluride as an environmental architect and landscaper. She is married to Eric Adolphi who manages the Medical Center there. Sherab is the mother of Otto Ziji (2012) and Enzo Tashi (2017). Aloka is Vice President of Leadership and Organization Development at Sony Pictures Entertainment in Culver City, California, and mother of Luna Violet (2009) and Truman James (2011). Lama Tsultrim's son, Costanzo (Tulku Ösel Dorje) has completed nearly four years of solitary retreat at Tara Mandala, studied Tibetan and Buddhist philosophy and received his MA in Buddhist Philosophy and is a candidate for a PhD through Rangjung Yeshe Shedra and Kathmandu University. He is married to Cady (Holtcamp) Allione, former Executive Director of Tara Mandala, and father of Bodhi Archer (2013) and Jalu Dorje (2017).
Lama Tsultrim is now working on several new books and traveling around the world to teach.
She writes:
"We find conflict in so many places today, within ourselves, in relationships, between countries, and even in places we associate with peace, like the Himalayas. What is the solution? The Buddha teaches that violence leads to more violence. So how can we be actively engaged in change, yet not caught in patterns that perpetuate suffering? Meditation can create a working basis for changing the fundamental causes of suffering and moving toward natural liberation."
Lama Tsultrim's teachings arise from the blessings of her many wonderful Tibetan Buddhist teachers, her 40-year dedication to the Buddhist teachings, and her experience as a Western woman and a mother.