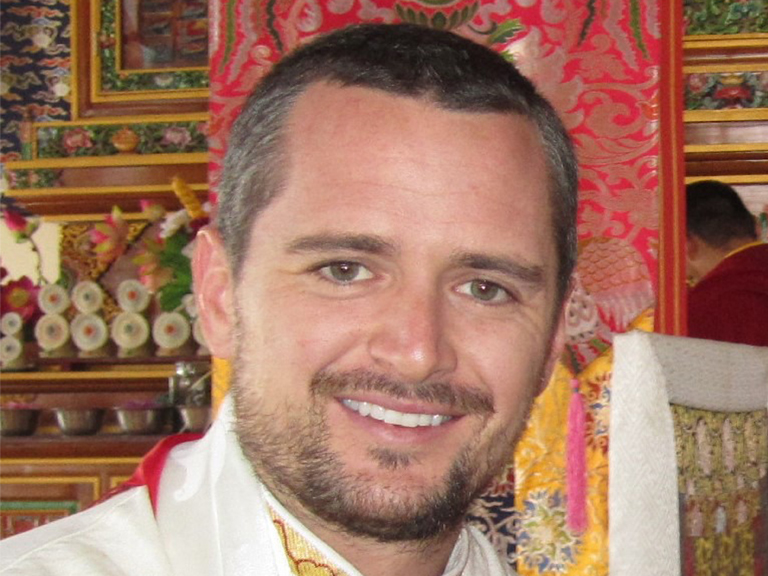 From his own personal retreat practice, Ösel Dorje has gained a strong appreciation for the importance of developing a deep understanding of the philosophical side of Buddhist study, while bringing it to life through meditation experience. Inspired by stories of realized masters of the past, Ösel Dorje has spent time…
Dorje Lopön Chandra Easton
Dorje Lopön Chandra Easton, Buddhist teacher and translator, studied Buddhism and Tibetan language at the Library of Tibetan Works & Archives in Dharamsala, India, founded by H.H. Dalai Lama. She later received her degree from UCSB's religious studies department at which time she co-translated Sublime Dharma, A Compilation of Two…
Magyu Lopön Charlotte Rotterdam
Magyu Lopön Charlotte Z. Rotterdam has studied Tibetan Buddhism for the last 20 years, was authorized to teach by Lama Tsultrim Allione in 2006, and received the title of Magyu Lopön, lead teacher of Magyu: The Mother Lineage at Tara Mandala from Lama Tsultrim in 2016. Lopön Charlotte teaches in…
Tulku Ösel Dorje is the Dorje Gyaltsab of Tara Mandala. He has completed four years  of retreat and holds a Master's Degree in Buddhist Studies.
Lama Tsultrim Allione has recognized two Lopöns in the Tara Mandala lineage to hold a direct role in the continuation and spreading of teachings as well as providing direction and guidance on all programs and paths offered. 
Chandra Easton is the Dorje Lopön (Vajra Teacher) of Tara Mandala. She is the Lead Senior Teacher under Lama Tsultrim.
Charlotte Rotterdam is the Magyu Lopön of Tara Mandala. She oversees the entire Magyu Lineage path.
Lopön is a Tibetan title that means "Teacher" and is a spiritual degree given in Tibetan Buddhism that is equal to a Masters of Arts (M.A.). It is equivalent to the Sanskrit term Acharya, which means a senior teacher in Buddhism, as well as in other Indian traditions such as Hinduism and Jainism.