Feeding Your Demons®
Feeding Your Demons® is an accessible and effective approach for dealing with negative emotions, fears, illnesses, and self-defeating patterns. It was distilled by Lama Tsultrim Allione from the teachings and practice of the 11th-century Tibetan yogini Machig Labdrön. Feeding Your Demons® has benefited thousands worldwide, with practitioners from every walk of life on five continents. The work transcends spiritual constructs, serving as a meaningful tool for anybody, regardless of religious affiliation or personal philosophy. See below upcoming training and courses connected to this process and click here for more information about the training program.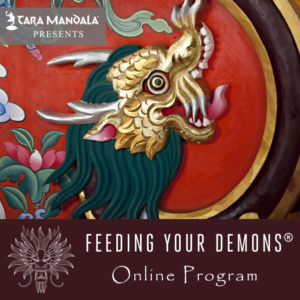 With Lama Tsultrim Allione, Magyu Lopön Charlotte Rotterdam and Pieter Oosthuizen
Open Dates
Online
Feeding Your Demons® (FYD) is a profoundly effective method for recognizing and transforming the deep-seated patterns, triggers, and neuroses that undermine the quality and enjoyment of our lives. Learn more about the whole program here.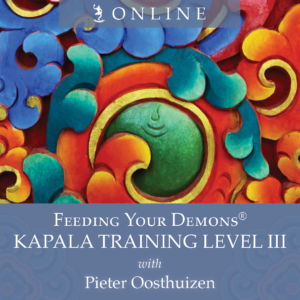 With Pieter Oosthuizen
April 19 - 23, 2023
Online - Zoom
In Kapala Training Level III we will go further into Machig Labdrön's lineage, learning specific new practices and deepening our understanding of the roots and branches of her lineage tree. Please note, this retreat is restricted to those who meet the requirements from Kapala I&II / FYD Buddhist Track Levels…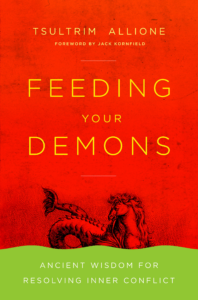 With Paula van Lammeren
September 8 - 9, 2023
The Netherlands
Teachings will be offered in English/Dutch. The workshop provides a thorough grounding in this remarkable method for transforming and befriending negative emotions, fears, illness and self defeating patterns; and introduces the radical notion that to heal and transform ourselves we must 'feed' not fight our demons. The process has been…