Feeding Your Demons®: Kapala Training Level V (Retreat in California)
With Lama Tsultrim Allione
March 16 - 20, 2023
In Kapala Training Level V, 
We will look at the scientific studies connected to FYD. 

We will work with the demon of racism and how it affects us, and the demon of ecological narcissism. We will also do partner work with whatever is arising for each of us individually. 

You will receive the practice of  "Machig Labdrön and the Five Chakra Dakinis" a Dagnang (Pure Vision) Terma from Lama Tsultrim. She received this at Zangri Khamar in Tibet on December 13, 2010.
Who Can Attend?
Prerequisites:
Completion of Kapala Training Levels I & II or FYD Online Levels I and II (Buddhist Track)

and

Kapala Training Levels III & IV

200 hours of "Machig's Direct Transmission"

200 hours of "5 Elements Practice," 40 hours each element

100 hours of "The Crystal and Its Rays" movement practice

Completion of the Zhitro (Namchö Mingyur Dorje) Retreat

Completion of the Phowa Retreat
Program Cost: $784
Retreat Location and Details: Encinitas, California 
The exact address and directions to the location will be given upon registration. 

PLEASE NOTE:  All registered participants will be responsible for securing their own lodging, breakfast and dinner. The listed tuition includes the cost to attend the program, a catered lunch and text material. 

Complete information about the tentative schedule during the days of retreat will be provided after registration and as the dates draw closer.

We advise participants to plan their travel arrangements so as to be prepared to enter into retreat the morning of March 16. 

In order to allow for a full program day and flexibility for our teachers to plan the closing of this retreat, we encourage all participants to coordinate their travel plans so as to depart on March 21 in order to ensure everyone can be present on March 20 for the closing day.
Health and Safety Protocols 
To the extent that it is applicable, we ask all participants to be prepared to abide during this retreat by the following health and safety protocols:
Negative COVID-19 Test:

Everyone is encouraged to do a self-check prior to arriving at the first retreat session by making note of any flu-like symptoms and testing for COVID-19 on that same day and before arrival if there is concern. We ask that anyone having a positive COVID-19 test result or suspecting to have COVID-19 abstain from attending sessions and alert the onsite volunteers and our registrar for assistance. 

Covid-19 Vaccination:

Tara Mandala recommends being vaccinated, but we do not require proof of vaccination for you to attend this retreat.

Masks:

 Masks are no longer required but are recommended. If you are experiencing flu-like symptoms, we ask you to wear a mask. 

Hand Sanitizer:

We will provide hand sanitizers in all spaces and encourage participants to use these frequently. 
Offering dana to the teacher: The practice of offering dana, which means "generosity," is the traditional offering the student makes to the teacher as a symbol of appreciation, gratitude, and reciprocity for receiving the precious teachings. Information on offering dana to the teacher will be provided during the virtual retreat. To learn more about dana and suggested dana ranges, please click here. 
Payment Plans
Please note that scholarships are not available for this Retreat. Students seeking financial assistance may request a Deferred Payment Plan. Please see this page for further information.
Sustaining Sangha:
If you are currently a member of our Sustaining Sangha, you may apply your Retreat discount to this course.
Click Here for Our In-Person Retreat Cancellation and Refund Policy
Teacher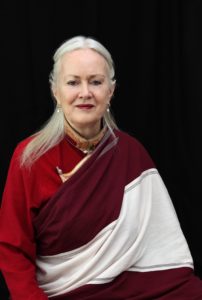 Lama Tsultrim Allione
Lama Tsultrim Allione is the bestselling author of Women of Wisdom (1984), Feeding Your Demons (2008), and Wisdom Rising Journey into the Mandala of the Empowered Feminine (2018). Lama Tsultrim is the founder of Tara Mandala, a 700-acre retreat center with the three-story temple and library  dedicated to the divine…
Learn more about Lama Tsultrim Allione