Resting in the Womb of the Great Mother (Retreat in Italy)
With Lama Tsultrim Allione
October 13 - 15, 2023
" Resting in the Womb of the Great Mother "
The Ground of Being which has no center no fringe, beyond time in the fourth time, the vast expanse empty yet pregnant with all phenomena is called the womb of the Great Mother. Feminine in that she is pure potential, beyond gender in the reality of who she is. Known as Prajnaparamita, Yumchenmo or Samatabhadri. In this experiential retreat we will explore her resting effortlessly in her vastness, with guided meditations and dialogue. The retreat will be based on the early teachings of the sacred feminine from the Tibetan Buddhist tradition.
Participants
The retreat is open to all experienced and non-experienced practitioners.
Costs
The retreat is by donation (Dãna) both for the teachings and for the translation. Board and lodging: 45 euros per day to be paid directly upon arrival at the Sanctuary. There is no dinner but only a snack in the afternoon, based on fruit, tea and dark chocolate.
Teacher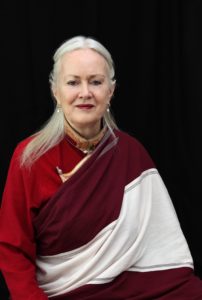 Lama Tsultrim Allione
Lama Tsultrim Allione is the bestselling author of Women of Wisdom (1984), Feeding Your Demons (2008), and Wisdom Rising Journey into the Mandala of the Empowered Feminine (2018). Lama Tsultrim is the founder of Tara Mandala, a 700-acre retreat center with the three-story temple and library  dedicated to the divine…
Learn more about Lama Tsultrim Allione