Khandro Kejang Chöd
With Drubpön Lama Karma
September 26 - October 1, 2019
Chöd, which literally means "cutting," is a powerful, dramatic practice of cutting through ego-clinging and delusion by visualizing the offering up of one's body to all beings and karmic debtors. This is a potent method to sever all self-grasping and to usher oneself into the realization of emptiness. The system of practices is based on Prajnaparamita and set down by Padampa Sangye and Machig Labdron for the purpose of cutting through the four Maras and ego-clinging. It is a swift path to liberation that also possesses incredibly profound blessings.
In this retreat, Drubpön Lama Karma will give the transmission of Khandro Kejang Chöd ("Bellowing Laughter of the Dakinis") from Longchen Nyingthig,  as revealed by Rigdzin Jigme Lingpa Khyentse Ozer.
Participants will need to have a Chöd drum and bell, both of which can be purchased in the Tara Mandala Dakini store. Dharma attire and kangling are also suggested.
This retreat is open to all.
Suggested Dana: $240 – $300
Teacher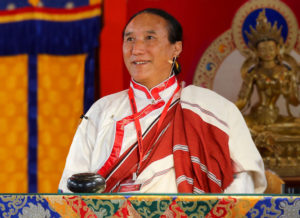 Drubpön Lama Karma
Venerable retreat master (Drubpön) Lama Karma was born in eastern Bhutan and joined the Long-Nying Chöling Monastery at a young age. His root teacher was Lama Naljorpa, the great yogi of Mahamudra and Dzogchen, from whom he received numerous vows, empowerments, instructions and oral transmissions, including the Chöd Rinchen Trengwa…
Learn more about Drubpön Lama Karma