Benefit for Tara Mandala and Dongyu Gatsal Ling Nunnery
With Lama Tsultrim Allione and Jetsunma Tenzin Palmo
August 28, 2020
An Afternoon of Intimate Dialogue and Stories
Join us for an afternoon event with two of the most well-known and influential female Buddhist teachers in the West today, Jetsunma Tenzin Palmo and Lama Tsultrim Allione. They will answer audience questions and share stories and insights from their many years of Dharma practice and teaching. 
This event will begin with a delicious vegetarian meal, followed by the dialogue, and a break for tea and dessert. For those attending the retreat with Jetsunma Tenzin Palmo, Liberation is Now: Engaging the Mind to Discover It Moment by Moment, this event is included. This event benefits Tara Mandala and Dongyu Gatsal Ling Nunnery, founded by Jetsunma Tenzin Palmo. There will also be a chance to learn more about developments at both Tara Mandala and Dongyu Gatsal Ling Nunnery. Learn more at tenzinpalmo.com.
Schedule:
12:00-1:00pm: Registration (Store will be open for book & CD purchases)
1:00pm: Lunch
1:45pm: Karma Yoga
3:00pm: Dialogue
Who Should Attend? 
This event is open to all.
To learn more about these teachers, we invite you to:
Suggested Donation: $108 to $1080
Teachers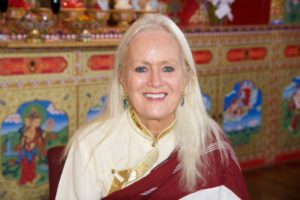 Lama Tsultrim Allione
Lama Tsultrim Allione is founder and resident lama of Tara Mandala.  She is author of Women of Wisdom, Feeding Your Demons, and Wisdom Rising: Journey into the Mandala of the Empowered Feminine. Born in New England to an academic/publishing family, she traveled to India in her late teens and was ordained as…
Learn more about Lama Tsultrim Allione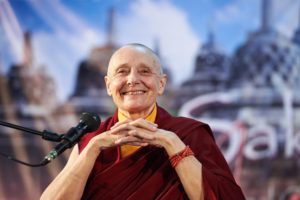 Jetsunma Tenzin Palmo
Jetsunma Tenzin Palmo was born in England in 1943 and named Diane Perry. She and her older brother were raised by her mother in the Bethnal Green area of London after her father's death when Diane was 2 years old. Mrs Perry was a spiritualist who held séances in the…
Learn more about Jetsunma Tenzin Palmo