Chöd: From Chögyal Namkhai Norbu – VIRTUAL RETREAT
With Lama Tsultrim Allione and Karla Jackson-Brewer
May 28 - June 1, 2020
A Tara Mandala Virtual Retreat
Chöd is a unique blend of the Tibetan Shamanic traditions and the Buddhist tradition of compassion and emptiness. This centuries-old practice is sung, and is accompanied by the use of a traditional Chöd drum and bell. Healing comes when fear, fixation, and self-clinging are cut through, when we nurture and don't fight what assails us. This gives rise to the awareness of the empty nature of afflictive emotions.
Registration for this retreat will close at 2:30pm MT on 05/28.
In this retreat you will have the opportunity to:
 To receive the transmission (Tib. lung) of this Chöd practice from Lama Tsultrim.
Learn the Chöd practice and melodies as transmitted and taught by Chögyal Namkhai Norbu Rinpoche.
Learn about the life and teachings of the great yogini, Machig Labdrön, who established the Chöd practice.
See below for detailed daily schedule information
Who Should Attend?
This is a required retreat for the Magyu Mother Lineage Program.
This retreat is open to all.
To prepare for this retreat, you will need:
A Chöd drum and bell and vajra, both of which are available through our Dakini store.
For questions regarding purchasing ritual implements, please contact store@taramandala.org
What is a Virtual Retreat?
Our Virtual Retreat is a Tara Mandala At-Home intensive retreat during which you will receive teachings, engage in guided practice, and connect with other participants through an easy-to-use online platform (Zoom). We encourage you to create a retreat environment during our days together, by setting aside a dedicated retreat space, removing yourself as much as possible from social media, and taking care of necessities with the mind of compassion in action.
This retreat is meant to be attended live, however the entire retreat will be available for 7 days after the end of the retreat for additional viewing.
I registered for the original onsite retreat, what can I do?
If you have signed up for the onsite retreat at Tara Mandala, you can easily convert your registration to this new Virtual Retreat offering. Please connect with our Registrar to do this at registrar@taramandala.org.
Tiered-Prices
We're asking our community to support Tara Mandala financially by considering our tiered-pricing model for our virtual retreats which we are launching  in 2020 to support those in our community that cannot travel due to the pandemic. These are difficult times for everyone, and Tara Mandala is no exception. We encourage you to pay at the highest level within your capacity to support Tara Mandala, our staff, and our sangha. We thank you in advance for your support and your practice!
$400 – Essential Level
Registration at this level helps Tara Mandala cover basic costs of holding this specific retreat, including compensating our teachers.
$490 – Luminous Level (includes a 20% discount for self-paced online courses valid for 3 months)
Registration at this level helps support basic costs of this retreat, and additionally supports our onsite staff  at Tara Mandala during this year of uncertainty.
$540- Mandala Level (includes a 30% discount for self-paced online courses valid for 3 months)
Registration at this level helps Tara Mandala cover basic costs for this retreat, supports staff, facilities maintenance and other critical operational needs onsite this year.
Any additional contribution to our Annual Fund will allow Tara Mandala Retreat Center to continue to be a year-round center, a repository for wisdom literature, a center for translation, a beacon for the feminine in Buddhism, an active dharma center with weekly dharma study and practice that provides refuge for deep practice and transformation. If you are able to provide a generous contribution beyond the prices listed above, you will also have the opportunity to do so in your registration and/or during the retreat.
Similarly, if you would like to offer Dana to the teachers leading this retreat, the information to do so will be provided during the virtual retreat sessions.
VIRTUAL RETREAT SCHEDULE
Listed times are the online portions of the retreat. All times are Mountain Time.
If you are attending from another time zone, please know that recordings will be made available by 8pm MT daily so you can review missed sessions. Please use this link to see how this daily schedule translates into your timezone.
Thursday, May 28
4:00pm – 6:00pm MT: Opening Session with Karla Jackson
Friday – Sunday: May 29 – 31
9:00am – 9:45am MT: Morning Practice with Karla Jackson
11:00am – 1:00pm MT: Teaching Session with Lama Tsultrim
3:00pm – 5:00pm MT: Teaching Session with Karla Jackson
Monday, June 1
9:00am – 9:45am MT: Morning Practice with Karla Jackson
11:00am – 1:00pm MT: Last Session with Lama Tsultrim and Karla Jackson
Teachers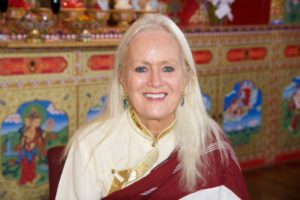 Lama Tsultrim Allione
Lama Tsultrim Allione is founder and resident lama of Tara Mandala.  She is author of Women of Wisdom, Feeding Your Demons, and Wisdom Rising: Journey into the Mandala of the Empowered Feminine. Born in New England to an academic/publishing family, she traveled to India in her late teens and was ordained as…
Learn more about Lama Tsultrim Allione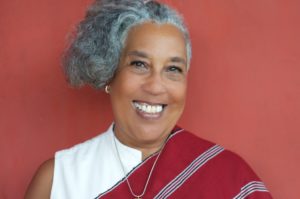 Karla Jackson-Brewer
Karla Jackson-Brewer, MS, Tara Mandala Authorized Teacher, has been practicing Chöd for 30 years and has assisted Lama Tsultrim on many Chöd retreats. Since 2013, she has taught Chöd with Lama Tsultrim and Lopon Chandra Easton. Karla is a founder of Sine Qua Non: Allies in Healing, an Integrative Therapy…
Learn more about Karla Jackson-Brewer