Enlightenment without Meditation: Longchen Nyingtig P'howa – VIRTUAL TEACHINGS
With Adzom Gyalse Rinpoche
October 3 - 11, 2020
Special Virtual Teachings
The ability to transfer consciousness into an ex­alted state at the moment of death allows us to live without the fear of dying. Through P'howa, death becomes an opportunity for liberation instead of a mere severance from what we have known and loved in life. It assures us that we won't die in a state of spiritual uncertainty and drift helplessly after death. This P'howa is from the Longchen Nyingthig terma cycle, and it is a practice that is done for ourselves and others at the time of death.
Come join us for this rare opportunity to learn the Longchen Nyingtig P'howa sadhana virtually with Adzom Gyalse Tulku Rinpoche.
Rinpoche will provide transmission, teachings and commentary on this practice during two consecutive weekends via Zoom. We will have the assistance of Tibetan/English translator Erik Drew who will translate throughout all the sessions.
Teaching Dates & Times
Saturday, October 3, from 8:00am – 10:00am MT

Sunday, October 4,  from 8:00am – 10:00am MT

Saturday, October 10,  from 8:00am – 10:00am MT

Sunday, October 11,  from 8:00am – 10:00am MT
Times above are listed in Mountain Time. If you are attending from another time zone, please know that recordings will be made available by 8pm MT daily so you can review missed sessions. These will be available for seven (7) days following the conclusion of the retreat. The lung will be offered on October 11. This session MUST be attended live. Please make every effort to arrive on time and remain in the class for this entire session. 
Please use this link to see how this daily schedule translates into your timezone.
During these teachings you will have the opportunity to:
Learn the Longchen Nyingtig P'howa sadhana,

Transference: Enlightenment without Meditation from The Heart-Essence of the Vast Expanse

as revealed by Rigdzin Jigme Lingpa
Who Should Attend? 
This is a required sadhana for the

Magyu Mother Lineage Program

.

This offering is open to all, however, we encourage you to read below about the nature of this learning modality.

We offer scholarships and deferred payment plans as resources for anyone with financial limitations. For more information and to apply, visit our Scholarships and Financial Assistance Page.
What are Virtual Teachings?
Virtual Teachings are unique opportunities where Tara Mandala provides access to dharma teachings by prominent Tara Mandala and guest teachers through an easy-to-use online platform (Zoom). Unlike our Virtual Retreats, Virtual Teachings occur in non-consecutive days and do not follow the rigor of a full day of retreat sessions (no multiple sessions on the same day). In addition, at this time this modality does not include practice sessions outside of the teaching sessions on the dates listed above. 
This modality of learning is appropriate for practitioners who are able to create for themselves a practice container of their own, setting aside a dedicated retreat space, removing as much as possible from social media, and taking care of necessities with the mind of compassion in action for the specific dates and times that the teachings occur. 
Each teaching session will include a portion for Q&A where participants are encouraged to ask the teacher about any inquiries connected to the practice of this sadhana.
These teachings are meant to be attended live given that direct transmission and empowerments may be given. However, in its entirety, the teachings will be available for 7 days after the end of the last session for additional viewing.
Tiered-Prices
We're asking our community to support Tara Mandala financially by considering our tiered-pricing model for our virtual retreats which we are launching  in 2020 to support those in our community that cannot travel due to the pandemic. These are difficult times for everyone, and Tara Mandala is no exception. We encourage you to pay at the highest level within your capacity to support Tara Mandala, our staff, and our sangha. We thank you in advance for your support and your practice!
$200 – Essential Level
Registration at this level helps Tara Mandala cover basic costs of holding this specific retreat, including compensating our teachers. 
$254 – Luminous Level (includes a 20% discount for self-paced online courses valid for 3 months)
Registration at this level helps support basic costs of this retreat, and additionally supports our onsite staff  at Tara Mandala during this year of uncertainty.
$284 – Mandala Level (includes a 30% discount for self-paced online courses valid for 3 months)
Registration at this level helps Tara Mandala cover basic costs for this retreat, supports staff, facilities maintenance and other critical operational needs onsite this year.
Any additional contribution to our Annual Fund will allow Tara Mandala Retreat Center to continue to be a year-round center, a repository for wisdom literature, a center for translation, a beacon for the feminine in Buddhism, an active dharma center with weekly dharma study and practice that provides refuge for deep practice and transformation. If you are able to provide a generous contribution beyond the prices listed above, you will also have the opportunity to do so in your registration and/or during the retreat.
If you would like to offer Dana to Adzom Gyalse Rinpoche at the end of these teachings, the information to do so will be provided during the sessions.
Teacher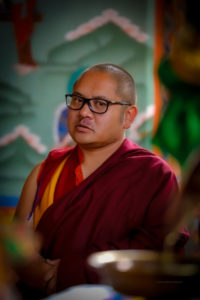 Adzom Gyalse Rinpoche
Adzom Gyalse Rinpoche is the reincarnation of Adzom Gyalse Gyurme Dorje, who was the son of Adzom Drukpa Pawo Dorje, and born in the year of the Iron-monkey (1980); in Bumthang, a region of central Bhutan, which was blessed as a hidden sacred land by Guru Padmasambhava; within a nomad family, he is…
Learn more about Adzom Gyalse Rinpoche