Opening the Heart of Compassion – Online Course
With Dorje Lopön Chandra Easton
June 2 - July 24, 2021
A Bodhisattva is one who awakens, not only for their own benefit, but also for the benefit of others. The Mahāyāna (Great Vehicle) teachings emphasize the cultivation of compassion and wisdom as a way to walk one's path with intelligence and care.
This 8-week online course will consist of a balance of lectures, discussion, study and practice so that the teachings can become integrated into your body, mind and spirit.
The weekly program will consist of a two-hour lecture by Lopӧn Chandra and a two-hour meditation practice.
Click here to register or to learn more: https://www.taramandala.org/online-programs-shop/opening-the-heart-of-compassion/
Leader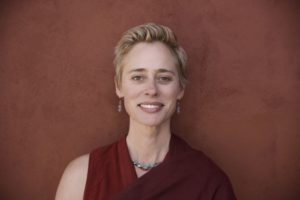 Dorje Lopön Chandra Easton
Dorje Lopön Chandra Easton studied Buddhism and Tibetan language at the Library of Tibetan Works & Archives in Dharamsala, India, founded by H.H. Dalai Lama. She later received her degree from UCSB's religious studies department at which time she co-translated Sublime Dharma, A Compilation of Two Texts on the Great…
Learn more about Dorje Lopön Chandra Easton