Song of Mahamudra – VIRTUAL RETREAT
With Lama Tsultrim Allione
September 17 - 19, 2021
"Gazing intently into the empty sky, vision ceases;
Likewise, when mind gazes into mind itself,
The train of discursive and conceptual thought ends
And supreme enlightenment is gained."
The most profound teachings on Mahamudra and in fact all lineages of Mahamudra meditation have their source in verse teachings from poems and "songs of realization" composed by mahasiddhas. The Song of Mahamudra was sung by Tilopa, the great 11th century mahasiddha, to his disciple Naropa on the banks of the Ganges River more than a thousand years ago. Since that time, the meaning of Tilopa's instructions has been passed directly from master to disciple in a continuous stream that exists unbroken to this day. 
In this virtual retreat, Lama Tsultrim will offer a rare glimpse into the Mahamudra oral transmission of one of the lineage's most learned and accomplished masters. She will offer teachings on Tilopa's Song of Mahamudra, considered to contain the essence of all teachings.
[The translation into English of the passage above was done by Kunzang Tenzin in 1977, after transmission of the oral teaching by Khamtrul Rinpoche in Tashi Jong, Kangra Valley, India.]
Who Should Attend? 
This is open to everyone.
What is a Virtual Retreat?
Virtual Retreats are Tara Mandala At-Home intensive retreats, teachings and in-depth workshops during which practitioners receive dharma teachings, engage in guided practice, experience hands-on learning, and connect with other participants through an easy-to-use online platform (Zoom) during consecutive days (with few exceptions) and daylong offerings. This modality of learning is appropriate for practitioners who are able to create a practice container of their own, setting aside a dedicated retreat space, removing themselves from social media, and taking care of necessities with the mind of compassion in action for the specific dates and times that the teachings occur. 
Virtual Retreats are meant to be attended live given that direct transmission (Tib. lung) may be given. However, access to recordings of the sessions are available for additional viewing for various timeframes specified by the price level selected.
Tiered-Prices
Tara Mandala offers tiered pricing for all virtual retreats to allow participants the opportunity to consider offering additional financial support for Tara Mandala while gaining greater access to the recordings of the teachings post-retreat. These are difficult times for everyone, and Tara Mandala is no exception. We encourage you to select at the highest level within your capacity to assist Tara Mandala in covering the costs to offer these wonderful teachings. We thank you in advance for your support and your practice!
$239 – Tier 1 (includes access to recordings of all sessions for up to 7 days from the end of the retreat)
Registration at this level covers the basic costs of holding this specific retreat. 
$294 – Tier 2 (includes access to recordings of all sessions for up to 30 days from the end of the retreat)
Registration at this level covers basic costs of this retreat and supports the year round staff at Tara Mandala.
$323 – Tier 3 (includes access to recordings of all sessions for up to 1 year from the end of the retreat)
Registration at this level covers basic costs for this retreat, supports year around staff as well as facilities maintenance and other critical operational needs.
Choosing Tier 2 or Tier 3 levels will allow Tara Mandala Retreat Center to continue to operate, be a repository for wisdom literature, a center for translation, a beacon for the feminine in Buddhism, and an active dharma center that provides refuge for deep practice and transformation.
There are many ways to support and engage with Tara Mandala's activities. Click here to learn more. We appreciate your support and generosity! 
Offering dana to the teacher: The practice of offering dana, which means "generosity," is the traditional offering the student makes to the teacher as a symbol of appreciation, gratitude, and reciprocity for receiving the precious teachings. Information on offering dana to the teacher will be provided during the virtual retreat. To learn more about dana and suggested dana ranges, please click here. 
Note: Tara Mandala has two scholarship funds and offers deferred payment plans as resources for anyone with financial limitations. For more information and to apply, visit our Scholarships and Financial Assistance Page. 
Friday, September 17:
2:00pm – 3:30pm MT: Teaching Session
4:15pm – 5:00pm MT: Practice Session
Saturday, September 18:
9:30am – 10:15am MT: Practice Session
11:00am – 12:30pm MT: Teaching Session
2:00pm – 3:30pm MT: Teaching Session
4:15pm – 5:00pm MT: Practice Session
Sunday, September 19:
9:30am – 10:15am MT: Practice Session
11:00am – 1:00pm MT: Closing Session
Leader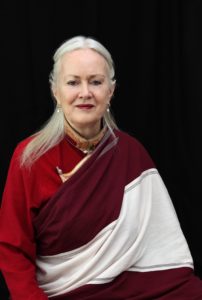 Lama Tsultrim Allione
Lama Tsultrim Allione is the bestselling author of Women of Wisdom (1984), Feeding Your Demons (2008), and Wisdom Rising Journey into the Mandala of the Empowered Feminine (2018). Lama Tsultrim is the founder of Tara Mandala, a 700-acre retreat center with the three-story temple and library  dedicated to the divine…
Learn more about Lama Tsultrim Allione