Lama Tsultrim Events
Lama Tsultrim Allione is an author, an internationally known Buddhist teacher, and the founder of Tara Mandala. Lama Tsultrim was the first American woman to be ordained as a Tibetan nun by His Holiness the sixteenth Karmapa before returning her vows to marry and raise three children. Recognized as the reincarnation of renowned eleventh-century Tibetan yogini, Machig Labdrön, she is the author of three books Women of Wisdom, Feeding Your Demons, and Wisdom Rising. Lama Tsultrim focuses on the teachings of Dzogchen and the lineage of Machig Labdrön, the founder of the Chöd lineage. Her teachings arise from the blessings of her many wonderful Tibetan teachers, her experience as a Western woman and mother, and over forty years of practice and dedication to the Buddhist teachings. To learn more about Lama Tsultrim, visit here.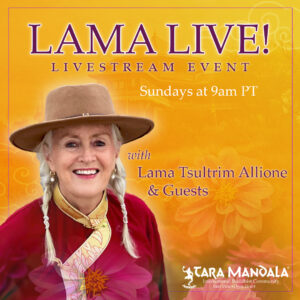 With Lama Tsultrim Allione
Open Dates
Online - Facebook and YouTube
Lama Live! is a livestream event where we can gather together as a community for meditation, prayer, and teachings from Lama Tsultrim Allione and other guest teachers on Sundays at 9am PT.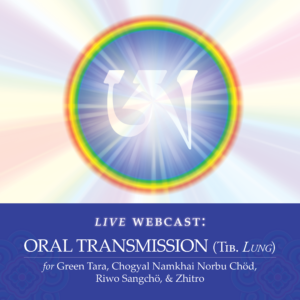 With Lama Tsultrim Allione
July 30, 2022
Online - Zoom
A Lung is required in order to receive the teachings and practices offered in our Self-Paced Green Tara, Chöd, Zhitro, Riwo Sangchö courses. Anyone is welcome to receive a Lung as a blessing and connection to a certain practice. If you have already received the Lung, you are welcome to…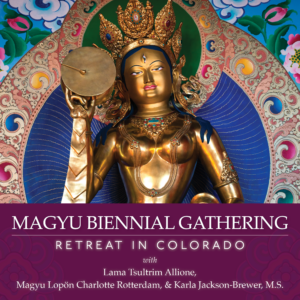 With Lama Tsultrim Allione, Magyu Lopön Charlotte Rotterdam and Karla Jackson-Brewer, M.S.
August 5 - 10, 2022
Tara Mandala Retreat Center
Tara Mandala extends a warm invitation to all of Lama Tsultrim's students who are members of the Magyu program. An honoring of the Mother Lineage through this first Magyu Gathering is an acknowledgement of our shared commitment to hold this fresh stream of teachings from our beloved teacher, Lama Tsultrim,…